Awards

I am very pleased to announce that my web site has won awards. I thank you for visiting here and I hope you will be able to see more in the future.
After all of that here is my first award.
This was awarded to me March 15, 2000
All Thanks to:
If you click on the Award you will go to the page that it was awarded from. A must see!
A wonder full gift, my second award. This was awarded to me on November 24, 2000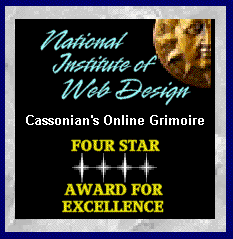 Big thanks to Earl Pranke for giving this to me ;)
I am pleased to announce that Cassonian Online has won a third award :)
There were two awards of the same kind, i was told to pick the one i liked..but i liked them both, so you will see them both :)
Awarded on Feb 11, 2001
thank you again Leeolla LunaRose
I hope there are more to come :)