Welcome to my new product page!
Introducing the Beltane Spell Bottle!
This is a great wish spell to celebrate Beltane!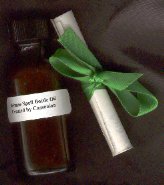 You get a 1oz bottle of my specially blended Beltane Oil with an original Beltane incantation!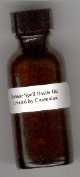 The bottle contains my special Beltane oil mixture blessed special by me for every order. The bottles are easily breakable if you feel you want to bust them on your sacred fire! :)

The spell is printed on white parchment paper, rolled and wrapped in green ribbon to symbolize fertility and good fortune for Beltane!
All spell bottles include directions for the spell. You could always put your own twist on it!
All Spell Bottles are only $7.00!
S&H is $2.00 to anywhere in the US
Order two or more to save on shipping!!
For orders of two or more, I will calculate exact shipping and email you the total price.
So what are you waiting for?? Order here!! :)
All feilds not marked by a * are optional
After you send your order, mail your check or money order to
D. Tovar
Spell Bottles
505 Elm Street
Grayling, Mi
49738
Thank you very much :)